Wondering why SOP for MBA is required? SOP i.e Statement of Purpose of MBA is a form of personal statement or essay about your academic and professional journey along with your personal interests and skills. SOP for MBA Application is a window where you can demonstrate the strengths and merits of your profile to stand out from other applicants. MBA programs build managers by polishing the management and leadership skills of the candidate and the selection committee checks for similar traits and experiences from the candidates. Thus, this SOP for MBA Admissions will help you to present yourself as a strong candidate with good academics and extracurricular which is required from good managers and leaders. You can always bring out those stories and incidents in your Statement of Purpose for MBA which shows your management and leadership skills.
What is an MBA?
Before we talk about SOP for MBA i.e. Statement of Purpose for MBA, let us first understand about MBA in detail. MBA which is elaborated as Masters of Business Administration is one of the most famous and in-demand programs globally. It is a graduate degree program that caters to the theory and practical aspects of businesses and trains the candidate to make them capable of running and managing a business. This program is designed in such a way that it helps the graduates to gain a better perspective and a wholesome understanding of how businesses start, function, and grow. Almost all MBA programs across the globe have a similar learning approach which primarily focuses on a basic understanding of general management functions. The demands of business managers globally have increased rapidly in the last two decades and this has further expanded the horizons of management as a discipline.
History of MBA Degree (Masters in Business Administration Programs)
Masters of Business Administration programs was introduced in the USA first time in the year 1908 at Harvard University in Cambridge, which is an Ivy League Research University. And this business department/faculty at Harvard University is now known as Harvard Business School. The first batch of MBA at Harvard had 47 students in total. After that, MIT established its management and leadership wing in 1914, which is known as MIT Sloan School of Management or MIT Sloan. The main focus of MIT Sloan at the beginning was to train the corporate executives there. Later, in 1940 came the first MBA program for professionals in the business domain by the Booth School of Business at the University of Chicago. In four decades, this program was widely accepted but that was still only offered in a handful of Business Schools in the USA. In 1950, this MBA Program moved outside the States and it was awarded to student in Canada, studying at University if Western Ontario. The very next year, it was also introduced in South Arica at the University of Pretoria. Soon this program became popular globally and was introduced in Europe and Asian countries due to its high demand.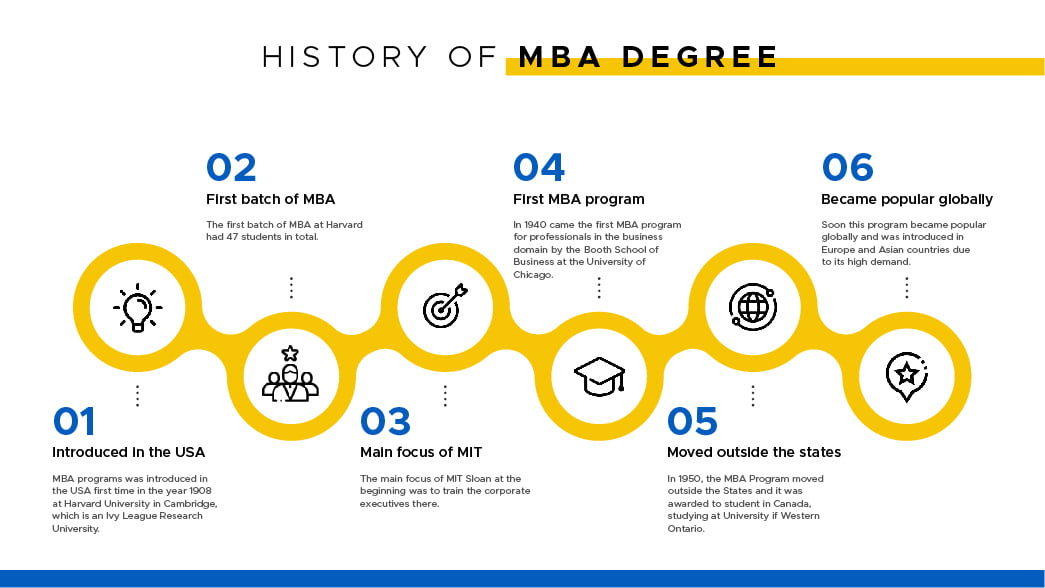 Major Specializations of Masters of Business Administration (MBA)
Master's in Business Administration or the management discipline has evolved in almost all the verticals of business in its history of more than a century now but the major specialisations for which MBA was introduced originally include marketing, finance, accounting, and human resources. Most business schools started offering their MBA degrees as general MBA and then later they started offering specialisation courses:
MBA in Marketing

MBA Finance

MBA in Accounting

MBA in Human Resource Management
Later with its high demand in all of the business domains, business schools globally started creating programs to cater to the needs of the current and future markets
MBA in Information Technology

MBA in Digital Marketing

MBA in Business Analytics

MBA in Data Analytics

MBA in Entrepreneurship

MBA in Strategy

MBA in International Business

MBA in Risk Management

MBA in Operations

MBA in Healthcare Management

MBA in Supply Chain Management

MBA in Construction Management

MBA in Project Management

MBA in Food & Agri-business

MBA in Sports Management
How does a Master of Business Administration work?
Master's in Business Administration is a globally renowned degree to level up the skills of business and management. Most companies when they promote their employees to take management roles, prefer someone with a Management degree. This MBA degree makes them learn and understand the basic theories of management, expose them to different tools and techniques, and internship/projects also give them much-needed practical exposure to the business world. MBA places the graduates well above the undergraduates and helps them grab opportunities with experience and knowledge is preferred.
MBA programs generally include core subjects like Accounting, Management, Finance, Marketing, and Business Law. Apart from these core management subjects, the most important part of the MBA Program is the management training which gives much-needed practical exposure to business management, planning, strategy, organisational behaviour, leadership, and people management.  Many famous Business Schools prefer candidates who have previous work experience before applying for their MBA Admissions. Most of the MBA programs are of two years duration and to get admitted there are different tests for MBA Admissions abroad
GMAT – Graduate Management Admission Test

GRE – Graduate Record Examination
MBA Admission Tests for Indian Business Schools / Colleges
MAT – Management Aptitude Test

CAT – Common Admission Test

CMAT – Common Management Admission Test

XAT – Xavier's Aptitude Test
Types of MBA Degree Programs
MBA Degree Programs vary according to the needs of the market and courses depend on different disciplines and specialisations. Duration and types of classes also vary but the most common MBA program famous globally is – Two Year Full-time Program which includes an internship or training program.
Full-time MBA Programs
Most of the MBA programs are full-time where students are committed for complete 2 years of MBA Studies and are meant for only those who can attend the entire course program and are not working anywhere else while doing the program. During the first year of the full-time MBA Program, students are provided with basic fundamental studies of the core management subjects and the second year is more inclined towards practical training and internships. The Two-Year MBA Program helps them to have a detailed understanding of business and management fundamentals along with practical exposure.
Part-time MBA Programs
Part-time MBA programs are designed for working professionals who cannot join full-time programs and want to level up their skills for better knowledge and better opportunities in their profession or otherwise. Such Part-time MBA Programs provide the candidates with greater flexibility to learn and earn together. Part-time MBA Programs have options of choosing classes like – Alternate Days of the Week, Evening Classes, and Weekend Classes and thus they can continue working to balance their professional and vocational fronts.
Executive MBA Programs
Executive MBA Programs are mostly one-year MBA Programs for those professionals who are already having years of experience and are aiming to top management positions further. These are only meant for working professionals who are looking for specialised management skills and knowledge. Executive MBA Programs are majorly focused on Leadership Development and are focused on similar topics and fundamental applications.
Virtual / Online MBA Programs
With new-age technologies, online MBA programs have become very popular and the leading premium Business Schools like Harvard, Stanford, Cambridge, and many other famous institutions have started offering virtual MBA Programs where people can study online through Ivy League Professors right from their homes. Online MBA Programs became more popular after the COVID Pandemic when all types of education were moved to online platforms. Online MBA Programs grant candidates a great opportunity to explore top-quality education from world-renowned professors.
1-Year Full-Time MBA Program
One-year MBA Programs are full-time MBA programs for those professionals who are having ample work experience and now wish to improve their skills and knowledge but cannot opt for regular MBA programs as they are already much aware of the basic management principles and just want to improve their skills and update their knowledge with latest technologies of the market. 1 Year MBA programs are more intensive, fast-paced, and focus on specialisation. It gives a basic overview of general business and management skills along with a focus on specialised electives. One-year MBA Programs are often chosen by highly experienced executives who wish to accelerate their career growth by brushing up their skills.
Dual Specialization MBA Programs
MBA Programs evolved with time and needs, then came different specialisations as per the industry requirements. Firstly, the main specialisations were from the core subjects like – Marketing, Operations, Accounting, Finance, Human Resources, and Information Technology. But with increasing demand and evolving industry, dual specialisation MBA programs were introduced. Students can choose Marketing as the main and Finance as the second specialisation and likewise, different combinations were made.
Major Dual Specialization MBA Programs are
Marketing & Human Resource Management
Marketing & Finance
Finance & Information Technology
Finance & Human Resource Management
Accounting & Finance
Marketing & Accounting
Marketing & Operations
Finance and Operations
Human Resource Management & Operations
How to write a Statement of Purpose for an MBA?
SOP stands for "Statement of Purpose," which is a written document that is typically required as part of the application process for MBA programs. The SOP is used to provide information about the applicant's background, goals, and qualifications, as well as to explain why they are interested in pursuing an MBA and why they believe they would be a good fit for the program. The SOP is often used to help the admissions committee make a decision about whether to accept the applicant. A statement of purpose is quite similar to a personal statement, admission essay, or letter of intent. Different business schools have different requirements in their format of writing SOP for MBA, but the idea behind these written statements is the same – i.e. to understand the profile of the candidate to select the best-fit candidates for the programs.
Before writing SOP for MBA Admissions, it is very important to understand what is the right format of SOP for a Master in Business Administration or any similar Management Program. MBA is a diverse field and selecting a course for yourself becomes a task in itself when you explain why you have chosen this particular program and how your past education or work experience relates to this, it unravels the brain. Here are some great tips for writing SOP for MBA.
Understand the purpose of MBA SOP:
SOP is a document that outlines your academic and professional background, research interests, and career goals. It is typically required as part of a graduate school or scholarship application. You need to understand the purpose of the SOP, and what they are looking for and draft it accordingly. For finding the right format, guidelines, and what they are looking for, try to talk to the Admissions counselor of that college or try connecting with the current students of the course over Linkedin or other social media platforms.
Tailor your SOP to the program and institution you are applying to:
University officials are willing to understand your intent for joining that institution and thus they would like to know how much research you have done about the college, faculty, and course curriculum they offer. Do a thorough research about the program and institution, and highlight how your background and goals align with their mission and values.
Be specific and concrete:
SOP for MBA should not look like a replica of a detailed version of your resume, so you should ignore saying those things which are clearly visible in your resume. Bring out those incidents which show your deeper interest in the programs or the given subjects. Real-time experiences or examples make your statement of purpose more authentic and readable rather than just making it fancy with some great vocabulary. Use simple language and keep your draft very specific and concrete along with avoiding any kind of repetition.  Use specific examples and evidence to support your claims about your qualifications and goals.
Show your passion:
MBA Colleges & Schools always want their students to be very enthusiastic and passionate about their subjects and thus the candidates who sound more passionate about learning business and leadership skills are given preferences. Admissions committees want to see that you are genuinely interested in the field and that you have a clear vision for your future. A great intent and clarity of future roadmap is very important for getting selected.
Be honest:
Be honest about your strengths and weaknesses, and show how you have worked to overcome any challenges. If there are certain drawbacks to your profile, do not hide them, better cite them with proper reasons and accept the failures. No one is perfect and thus they understand that there can be drawbacks to the profile but if they accept that honestly then it can be easily worked out or controlled.
Show your personality:
The SOP is an opportunity for you to showcase your personality and make a strong impression on the admissions committee. You should always focus on strengths and present them in a subtle way, quoting them with some incidents or letting them  know how you developed a particular skill. If you have some special skills which are not related to this course or studies, you should mention that as well.
Keep your SOP concise:
Most programs have a word limit for the SOP, so make sure you stay within the limit and get to the point quickly. It should be always very specific and to the point to put more emphasis on key areas and can accommodate more information that can add value to your profile.
Showcase your achievements:
Your personal achievements are your accolades that define your caliber and skills and thus it is very important to highlight your achievements whether they are academic achievements, some research publications or experience, or some extracurricular activities where you have performed well. These achievements show your strong traits and add credibility to your profile.
Follow instructions:
Every University or College provides instructions or guidelines on – how they want their students to write Statement of Purpose for MBA. Following the guidelines are very important and you should always do your research on the formats and instructions along with some samples on the internet to understand what they are looking for. This research will help you to stick to the instructions and make you a valid candidate for the course.
Proofread and edit:
Your final draft should be flawless & free of errors, in order to be assured it is very important to proofread and edit the final draft multiple times before you submit your SOP for MBA in the application. Take feedback from your seniors or teachers or counsellors and try to give your best shot.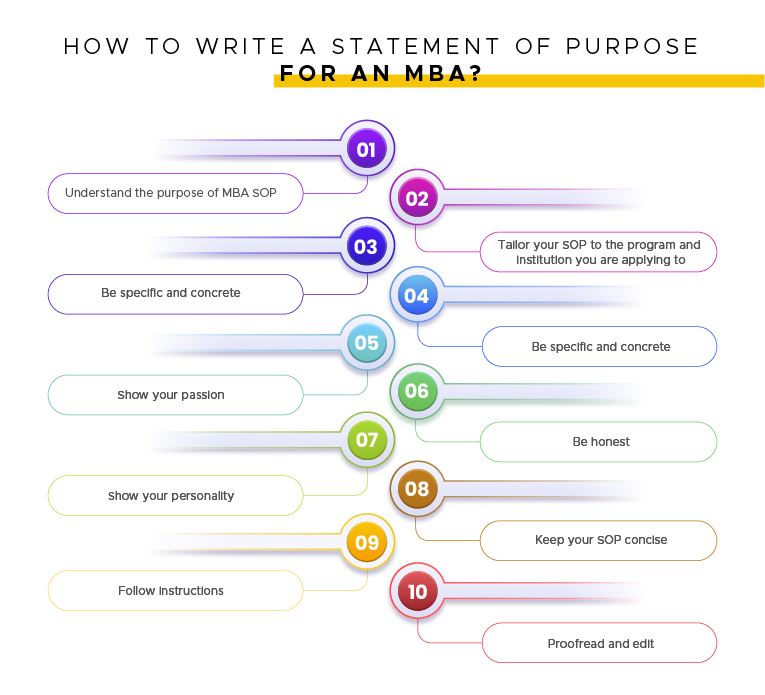 Statement of Purpose for MBA Sample / Format / PDF
Since the beginning, I was very passionate about money management where words such as assets, liabilities, and capital intrigued me. I opted for the commerce stream to explore the domain of finance as I realised this is my key interest area. Now, being a commerce graduate and having work experience of close to four years with investment banks & other financial institutions, MBA is a perfect fit for me to have a steep growth graph in my career. Working with leading brands like S&P Global and EY, who are into financial research, audit, and analysis, I realised that there is much more to explore and understand the financial world. My job profile in these companies has generated my interest to plunge deeper into this discipline, and thus I decided to pursue my studies further. I have chosen MBA because I think this course will help me have that global perspective of financial markets, corporate finance, and investment banking. Also, I can understand the financial world better and get strategic answers to challenges I faced during my jobs. I would be able to learn business management and leadership skills which can help me understand how businesses operate and run in the real world. I am eager to learn key skills of management, strategy building, and consulting to evaluate businesses and prepare a growth trajectory for them. I want to have hands-on experience with how new ventures or starts up operate and on what grounds investors fund the starts up /ventures.
The UK is my first and only choice for pursuing MBA because of many reasons. When we talk about education/academics, the UK has an excellent reputation globally.  MBA programs in the UK provide global exposure to candidates, excellent networking, and employment options worldwide. The UK is counted among the leading economies of the world and being a G20 it has excellent value in every aspect. My jobs have given me a fair idea of the Indian Economy and Financial Markets; now I want a global perspective of the same by going for an International MBA Program.  I did B Com Honors (Accounting and Finance) where I was exposed deeper to subjects like Accounting, Economics, Finance, Information Science, Marketing Management, and Business Management. After graduation, I was fortunate enough to start my career at one of the Big Four Accounting Firms, Ernst & Young, which is a London-based MNC and also one of the largest professional services firms worldwide. At EY, I worked closely with Global Real Estate Firms including various Fortune 500 companies where my role was to perform the audit and due diligence of the financial statements of those companies. I was also engaged in secondary research for EY Global Audit Clients, where I dwelled deep into extensive Financial Research. I learned to work as a team when I worked in a group of 2-5 people on different projects. Being a UK-based MNC, they followed the same work culture and ethics, which further made me inclined towards the UK for higher studies.
After EY, I got a chance to switch to S&P Global Market Intelligence – which is the market leader in financial information and analytics. At S&P, I was responsible for preparing detailed research and valuations of different companies after analysing their financial transactions and other instruments to advise investment banks in their decision-making. I also learn data mining using different sources over the internet, journals, and other financial feeds. Also, I did deep historical research and analysis of market data to prepare reports of different market segments and predict/assume their growth over the next decade. Here, I got some hands-on experience in using data research tools such as S&P Capital IQ, News Edge, Lexisnexis, and Advanced Excel functions like Macros & VBA.
To enhance my career graph, MBA is the best suited to me as per my understanding, and after completing MBA, I would like to go for a career transition to core finance, joining a private equity firm to practically implement the business management skills I have learned during the course. After having sound knowledge of the industry, I would like to start my private equity fund in India. I also have a keen interest in community volunteering, at both academic and personal levels.  On the personal front, I have worked actively with NGOs to contribute at least something toward the betterment of society. I would like to be engaged more actively in social work again when I will be financially sound. While graduating, I was Chief Coordinator & Head of my College's Placement Cell and I represented my college at Delhi University Placement Cell – a combined platform of all colleges under DU.  
This MBA course from such a reputed university will give me global exposure and a deeper understanding of the financial world as a whole. I would be able to explore and understand how global financial markets operate and impact various industries and brands.