Landing pages are the foundation of any successful eCommerce business today. Hence, it is imperative to design your landing page in a way that converts successfully. A highly converting landing page does not only intent only a good looking well-designed landing page. Instead, it depends on a variety of factors such as the SEO of your landing page, its content the links provided, and a lot more.
Moreover, at times all you need is a highly converting landing page in order to bring in bucks. No matter your web page is getting ample amount of clicks via  an advertisement or your effective social media presence. But all that matters, in the end, is a highly converting landing page. So let's get started from the scratch:
What is a Landing Page?
A landing page is a web page with multiple "call-to-action" buttons addressing your target audience. It fulfills its purpose of alluring a website visitor to sign up on your page, buy the product, or schedule some meeting. There is no denying the fact that a landing page can make or break your conversion rates. It's the first impression that builds around your visitors and hence plays the one and only part in compelling your target audiences to take an action.
Optimizing your Landing Page for better conversion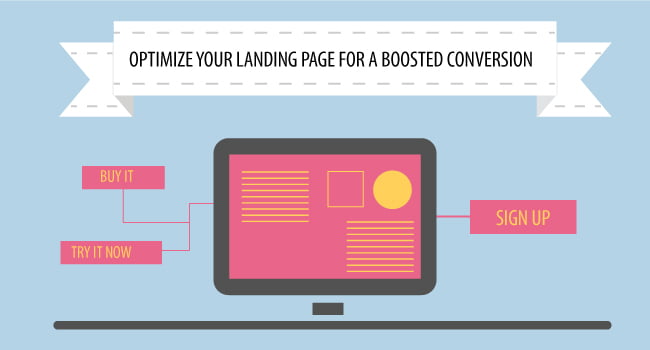 Image Credit – probytes.net
---
1. A killer Headline
A catchy and effective headline is what captures your audience's attention at first. Trust us, users take only 2 seconds in coming up with a decision of scrolling the page down or hopping to over a new website. Make sure to highlight your headline in bold with a bigger font-size, only then it can be clear, bold, and benefit driven.
2. Visual Focus
Keep your landing page simple yet attractive with some emphasised visual focus as in adding some videos to your website. A video testimonial would do wonders in every way- first and foremost it builds up your customer trust on a large basis and the other is a universal truth that humans are more fond of watching than reading.
3. Build your Visitor's trust
As stated above testimonials play a vital part in any highly converting landing page. Build statistics, come up with visuals in the form of images or videos. As people generally possess the tendency to believe over products that others have and use successfully.
4. Call-To-Action is a must
What's the best-suited number of call-to-action buttons over a landing page? Well, being very honest it totally depends on the length of your landing page. There's no hard and fast rule for it. However, a decent and highly converting landing page must consist of at least three to four CTAs (Call To Action buttons/links).
The A.I.D.A model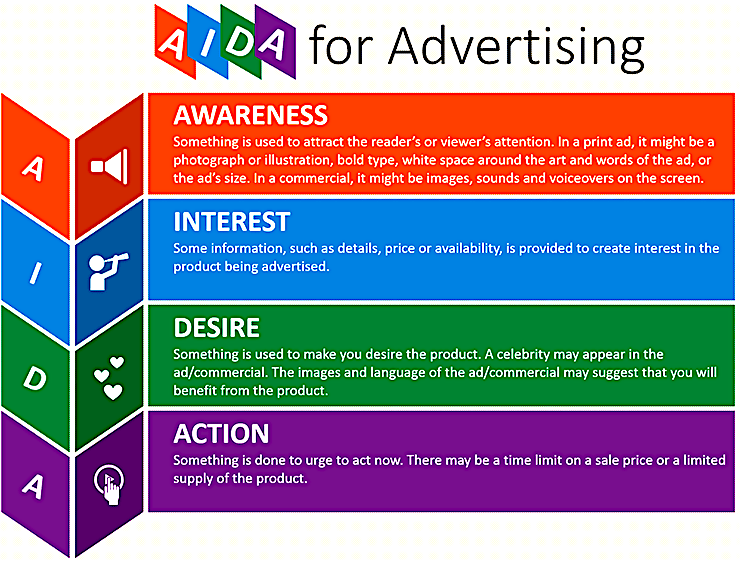 Image Credit – lndadvertising2016.blogspot.com
---
A.I.D.A. is an abbreviation for- Attention, Interest, Desire and Action. The funnel here works as a sales funnel for effectively converting your landing page. A glimpse at A.I.D.A-
i) Attention: The first and the initial step is drawing your visitors attention over to your page via quality content, videos, images, effective design of your landing page and a lot more.
ii) Interest: The next step is to build interest in your prospects about your products by highlighting its features and core values.
iii) Desire: Yet another crucial stage of the funnel is to close the deal and compel your visitors to start thinking about your product and consider purchasing it.
iv) Action: Here comes the crucial step of all, this is where all your hard work pays and your customers' checkouts via your page.
To Sum Up:
Now that you know how to effectively optimise your landing page and nurture enough leads in order to bring out larger conversions- You must start working on it.  Moreover, you would love to leverage some help from the best SEO services in Delhi. Hit in to explore everything about the best SEO company in Delhi.